Bernd Knoch, D.M.D.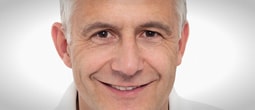 Further information
dentistry, implantology (cert.), orthodontics (cert.), aesthetic
dentistry, dental technology
Bernd Knoch, D.M.D., started his career as a certified dental technician. After working several years and a deployment within a group of dentist in the German military, he successfuly passed his final exams and studied dental medicine from 1990-1995 at the University of Bonn, Germany. In addition to studying, he was also employed at the Federal Ministry of Education and Research in Germany and studied abroad in Cambridge, UK.
Since 1998 he has been a board-certified dentist with his own practice near Cologne, Germany.
During his career, he was certified as implantologist (Karl-Häupl-Institut in Düsseldorf, Germany) and orthodontist (Harani-Akademie in Herne, Germany). Mr. Knoch has implanted several hundred dental implants and, thus, acquired a great expertise in this field.
Further main focuses of his work comprise aesthetic dentistry and temporomandibular joint dysfunction (functional diagnostics and treatment of the temporomandibular joint).
Bern Knoch has also been a recognized member of scientific societies like Deutsche Gesellschaft für Zahn-, Mund und Kieferheilkunde (DGZMK – German society of dentistry, oral and orthodontic surgery), Deutsche Gesellschaft für Ästhetische Zahnmedizin (DGÄZ – German society of aesthetic dentistry) and Deutsche Gesellschaft für Ästhetik (DGÄ – German society of aesthetics). Furthermore, he regularly stays in contact with other medical and dental societies and colleagues, aiming for scientific exchange and education.
Mr. Knoch likes exercising and journeys beyond mass tourism (USA, Canada, Central and South America, Australia, New Zealand) because he is very interested in foreign cultures.
Education and occupation
1980-1984 trained as a dental technician
1984-1985 deployment within a group of dentist in the German military
1989 Abitur (final exams)
1989-1990 Federal Ministry of Education and Research in Germany
1990-1995 study of dental medicine at the University of Bonn, Germany
1995 medical license a dentist
1995-1996 assistant dentist in Bonn, Germany
1998 until today own practice near Cologne, Germany
Further education
2004-2006 certification as implantologist (Karl-Häupl-Institut in Düsseldorf, Germany)
2004 interactive further education of the German Medical Association: temporomandibular joint dysfunction
2005 functional diagnostics: systematization and evaluation
2011-2012 certification as orthodontist (Harrani-Akademie in Herne, Germany)
2014-06-28 further education in radiation protection during cone beam computed tomography
Miscellaneous
Hobbies: journeys beyond mass tourism (USA, Canada, Central and South America, Australia, New Zealand)