Dr. med. Judith Maria Hoffmann, M.D.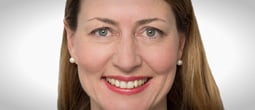 Further information
neurology, epileptology
travel medicine counseling for epileptics
first seizure clinic: interdisciplinary examination of unclear unconsciousness/fainting (syncopes) that happened for the first time
fan of architecture and arts
Since 1998, Dr. Judith Maria Hoffman has been a specialist in the field of Neurology. Since 2002, she has been a senior physician in the Department of Epileptology at the University of Bonn Medical Centre (Director: Professor Dr. Christian E. Elger, FRCP). Dr. Hoffmann is also certified in the field of traffic medicine.
Also, since 2014 Dr. Hoffmann established additional consultation hours to advise those patients who are suffering from seizures (Tuesdays and Fridays in the Beta Clinic).
Since January 2015, Dr. Hoffman has established consultation hours for patients suffering from neurological diseases, focusing on epilepsy. In addition, she has been treating patients with unclear unconsciousness/fainting, migraine, headache and dizziness.
Dr. Hoffman provides all of the diagnostic testing and therapy involved with these types of illnesses.
The consultations that Dr. Hoffman holds with seizure patients also rely on the close cooperation of those in the modern Beta Klinik where EEG diagnostics and radiological procedures (MRIs) are offered as well as the possibility of being co-treated by knowledgeable colleagues in other disciplines (i.e., internists for clarification of syncope, or doctors of psychosomatic medicine who treat patients suffering from psychogenic seizures). Epilepsy-specific, neuropsychological testing is also an option.
Information for private patients and those referring patients:
Do you need advice after your first seizure/unconsciousness?
Since 2015, Dr. Hoffmann has been offering a "first seizure service" for patients after their first unconsciousness (seizure/syncope), including examinations, clarification and, if needed, interdisciplinary out- or inpatient treatment. Beta Klinik with its different specialties, provides optimal interdisciplinary diagnostic and treatment options.
If you are seeking additional treatment for an established epilepsy
The consultation hours offered to those patients suffering from seizures provide the opportunity to analyze the patient's current treatment with the most up-to-date diagnostic and therapeutic measures currently available. If necessary, additional examinations can be conducted.
Also analyzed and treated are the commonly occurring ailments which can accompany epilepsy, such as depressive moods and loss of memory function and/or concentration.
From the data collected, a therapy plan will be established for the patient which describes the possible treatment measures currently available and, where appropriate, suggestions for therapy optimization will be formulated and implemented.
Accompanying that, a specific consultation will take place in which the life-related risks, legal questions (such as driving fitness) as well as the assessment of the continued therapy with anti-epileptic drugs are discussed. Prophylactic measures will be debated and, if necessary, established. This is done most notably in establishing the therapy for a planned or already existing pregnancy.
If you are seeking a second opinion concerning a suspected epilepsy
Absolutely essential for establishing an epilepsy diagnosis is the competent evaluation of the seizure symptoms which takes place here under the supervision of a very experienced specialist.
High resolution MRI examinations of the brain (such as those available in the Beta Klinik) and a high quality EEG (including competent diagnostic interpretation) are other essential services which are offered in the Beta Klinik.
In many cases, a suspected diagnosis can be confirmed or rejected through these methods.
Supplementary modules, for example the recording of seizures, can also be arranged – even at home!
If you suffer from seizures and require an assessment of your driving fitness
The basis of the consultation is the exact classification of the disease with regard to epilepsy or other diseases involving seizures (psychogenic seizures, for example). On the basis of the guidelines outlined by the Federal Highway Research Institute (Bundesanstalt für Straßenwesen), Dr. Hoffmann can offer specific advice as she is certified in the field of traffic medicine.
Facilitating arrangements for special therapy procedures:
Dr. Hoffman is very knowledgeable on the subject vagus nerve stimulation, one of the epilepsy therapy procedures which does not involve the use of medication. Following implantation, patients can come to the Beta Klinik for additional therapy which includes calibrating the device according to the patient's individual needs.
To make an appointment:
Appointments can be made for private patients and self-paying patients on Tuesdays (16.00 – 18.00) and Fridays (11.00 – 15.00).
To arrange for an appointment in the Beta Klinik, please call +49 228 909075-0 or contact Dr. Hoffman via e-mail at: hoffmann@betaklinik.de
We would be pleased to help you in treating your epilepsy and offer advice regarding your specific health concerns.
Curriculum vitae
1986-1993 study of human medicine at Universitätsklinikum Homburg/Saar (University hospital Homburg/Saar, Germany)
1990 clinical traineeship UCSF/USA in internal medicine
1993-1994 elective at Klinik f. Neurologie, Universitätsklinik Homburg/Saar (Clinic for neurology, University hospital Homburg/Saar, Germany)
1995 medical license
1994-1996 resident at Klinik und Poliklinik f. Neurologie, Lehrkrankenhaus der Universitätsklinik d. Saarlandes, Püttlingen (Clinic and polyclinic for neurology, training hospital of the University hospital of the Saarland, Germany)
1996 doctoral dissertation: "Die Bedeutung kardiovaskulärer Risikofaktoren für die spezifische Verteilung und Schweregradentwicklung von Frühläsionen und Stenosen der Arteria carotis interna." (The importance of cardiovascular risk factors for the specific distribution and the development of the degree of severity of early lesions and stenosis of the internal carotid artery)
1997 resident in neurology, Klinik f. Epileptologie, Universitätsklinik Bonn (Clinic for epileptology at the University hospital Bonn, Germany)
1997-1998 assistant doctor at Klinik und Poliklinik f. Psychiatrie und Psychotherapie, Universitätsklinik Bonn (Clinic and polyclinic for psychiatry and psychotherapy, University hospital Bonn, Germany)
1998 specialist exams
1998-2001 assistant doctor at Klinik f. Epileptologie (Clinic for epileptology), focusing on the stimulation of the vagus nerve, clinical studies
2001-2014 senior physician at Poliklinik f. Epileptologie (Polyclinic for epileptology), focusing on the stimulation of the vagus nerve
2011 certificate "Prüfärztin für klinische Studien" (Examiner for clinical studies)
2012 certificate "Prüfärztin für klinische Studien mit Medizinprodukten" (Examiner for clinical studies with medical products)
2011-2013 Poliklinik f. Epileptologie (Polyclinic for epileptology), focusing on the stimulation of the vagus nerve, interdisciplinary, epileptological consultant
since 2013 training "Weiterbildung Psychotherapie-fachgebunden" über die Ärztekammer Nordrhein ("Further education psychotherapy" via medical association North Rhine)
2013-2014 senior ward physician at Klinik für Epileptologie/Uniklinik Bonn (Clinic for epileptology at the University hospital Bonn, Germany), focusing on complex treatments, psychogenic seizures
since 2014 specialist consultation for patients suffering from seizures at Beta Klinik
since 2015 specialist consultation for patients suffering from neurological diseases, focusing on epilepsy, at Beta Klinik; in addition, comprehensive examination and treatment of patients suffering from unclear unconsciousness, migraine, headache and dizziness