Prof. Dr. med. Thomas Gasser, M.D.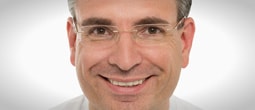 Further Information
neurosurgery, functional neurosurgery
trained in Hungary, South Africa and Essen (among other locations)
since 2011 he is professor
holds several medical patents and was awarded with the International Exchange Grant of the German and Japanese society of neurosurgery in 2005
he is one of the Managing Directors of Beta Klinik
Prof. Dr. med. Thomas Gasser grew up in both Weinheim (Baden-Wurttemberg, Germany) and Cape Town (South Africa). His medical studies took him to the Ignaz-Semmelweis University in Budapest, the Essen University Hospital and multiple times abroad.  Amongst other things, he was also a visiting physician at Groote Schuur Hospital in Cape Town. He followed on from his licence to practice medicine with his PhD on epidural scarring after lumbar intraspinal intervention.  He followed his specialist training with his habilitation (post-doctorate) on the development and clinical relevance of functional magnetic resonance imaging in neurosurgery.
He founded the faculty for functional neurosurgery and intraoperative imaging at the Johann Wolfgang Goethe University in Frankfurt/Main (Germany) and has been responsible for the faculty of functional neurosurgery at the Essen University Hospital since 2008.
Employing state-of-the-art therapies for the treatment of pain and movement disorders (neuromodulation, e.g. spinal cord stimulation – SCS, deep brain stimulation – DBS) are his primary focus as a physician. Additionally, he is specialized in the microsurgical treatment of neuro-oncological, degenerative and vascular brain and spine diseases.
Prof. Dr. Gasser scientifically focuses on the application of complex imaging procedures in neurosurgery. 2005 he was awarded the International Exchange Grant of the German and Japanese Society of Neurosurgery, leading him to a successful scientific research project at Tokyo Women's Medical University (Japan).
His doctoral thesis with the title 'The epidural scar formation after lumbar, intraspinal operations. An experimental examination on the diagnostic value of computer-and magnetic resonance tomography' was followed after his specialization, by a postdoc thesis (Habilitation) on the development and clinical relevance of functional magnetic resonance imaging for neurosurgery. Since 2011 he is professor.
Prof. Dr. Gasser is author and co-author of more than 130 scientific publications, holds two patents for medicine products and regularly gives scientific lectures at international congresses. Furthermore, he is the scientific consultant and member of the scientific advisory board of Medtronic Navigation, Louisville, USA. Besides, he is member of several specialist associations: Deutsche Gesellschaft fuer Neurochirurgie (German Society of Neurosurgery), World Congress of Neurological Surgeons (WCNS) and World Society for Stereotaxy and Functional Neurosurgery (WSSFN).