Dr. med. Daniel Sattler, M.D.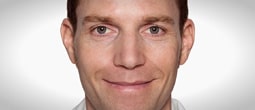 Further information
plastic and aesthetic surgery
was born in São Paulo/Brazil and was trained in Rio de Janeiro (among other locations)
"Aesthetic Fellowship" face and breast surgery
founding of the initiative "Beta Humanitarian Help" for plastic surgery in the Third World
Daniel Sattler was born in São Paulo, Brazil in 1977 and grew up in Bonn, Germany. He studied human medicine at Semmelweis Universität (Budapest, Hungary) and at Rheinische Friedrich-Wilhelms-Universität (Bonn, Germany) and finished his studies successfully with its practical year at the plastic-surgical department of Prof. Ivo Pitanguy in Rio de Janeiro. Dr. Sattler wrote his doctoral dissertation the same year at the department of accident and emergency medicine at Universitätsklinikum Bonn, Prof. Ch. Rangger. Within the scope of his clinical education, he rotated to the Emergency Department of the Jacobi-Medical-Center/Einstein College, New York, USA. Two years of further education in basic surgery followed in Bonn. His training in plastic surgery began 2007 at the Privatklinik für ästhetische Chirurgie, Dr. med. Kai Kaye in Marbella, Spain. From 2009 on, Dr. Sattler worked at the Universitätsklinikum Magdeburg, Germany, at the department for plastic, aesthetic and hand surgery, the European hand trauma center of the 'Federation of the European Societies for Surgery of the Hand' (FESSH), Prof. Infanger, formerly Prof. Schneider. After his 6-year-lasting training, he became a resident specialist in plastic and aesthetic surgery and a deputy head physician. Clinical works ensued in 'Minimal Access Cranial Suspension'-Facelift, genital reconstruction of obese patients, reconstructive surgery in case of calciphylaxis and ear reconstruction after trauma. Dr. Sattler also examined the influence of the growth factor VEGF on cells in tendons in his experimental research. He attended a two-month 'Aesthetic Fellowship' focusing on facial and breast surgery, Dr. med. Kai Kaye. In October 2013, Dr. Sattler did humanitarian work with his colleagues Michel Saiveau and Kai Kaye in Peru, specializing in secondary impacts of burnings, ear reconstructions, rhinoplasties as well as facial tumor surgery. Since June 2014, he has been leading the Department for Plastic and Aesthetic Surgery at Beta Klinik in Bonn, Germany.