Dr. med. Axel Jung, M.D.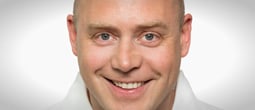 Further information
neurosurgery/neurosurgical intensive care medicine
trained in South Africa (among other locations)
masters swimmer (world and European championships)
he is one of the Managing Directors of Beta Klinik
Dr. Axel Jung successfuly completed his medical education in Aachen and Melbourne and, during his internship, worked at the Chris Hani Baragwanath Hospital in South Africa from 1994 to 1995. After his dissertation in 1997, he successfuly passed exams in neurosurgery (2003) and neurosurgical intensive care (2005) at the neurosurgical departments of the university hospitals in Aachen and Bonn. After a number of years working as Assistant Professor of the Neurosurgical Department of the Universitaetsklinikum Bonn, he joined the team of the Beta Klinik in 2008.
Dr. Jung is a member of the 'Deutsche Gesellschaft fuer Wirbelsaeulenchirurgie' (German Spine Surgery Association) and a member of the 'Deutsche Gesellschaft fuer Neurochirurgie' (German Association of Neurosurgery) and of AOSpine. He specializes in microscopic head and spine surgery, employing the latest techniques. In 2008 his lectureship at the University of Bonn was rewarded with the second rank in the category 'Teacher of the Year'.
Dr. Jung likes sportive challenges. Numerous participations in national and international swimming competitions, e.g., European and World Championship Masters Swimming in the disciplines of breaststroke and butterfly, impressively mark his athletic involvement.